When it comes to choose the right IP PBX system three main variants of deployment are available. beroNet Telephony Appliance offers an easy solution for pure software based IP PBX.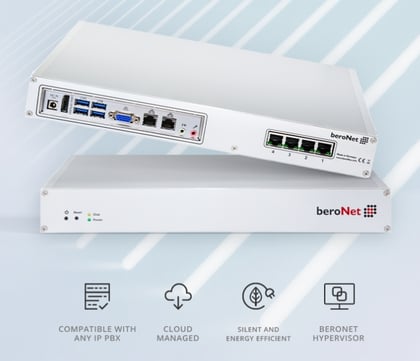 Right now many businesses consider to replace their traditional PSTN Phone system, due to various reasons. One main problem is that PSTN Providers don't sell new lines or even cancel existing contracts. Also the PBX suppliers won't add new features and may not sell replacement parts or handsets anymore. Often the phone system infrastructure is "grown over the years" and difficult to maintain. Some phone systems have already served for decades. It is time to replace it with an IP PBX.
When it comes to choose the right IP PBX system three main variants are available:
1. pure software based
2. IP PBX integrated local IP PBX
3. cloud based IP PBX
Every variant has its own strengths and weaknesses and finally the customer often chooses based on a certain function, design or price structure.
This article will focus on the first case of a pure software based IP PBX. Such software is available in different flavours, from open source solutions to license based solutions. In any case the question "where to install the IP PBX" arises.
Some businesses do have a virtualization infrastructure in place. For these businesses it makes sense to integrate the IP PBX as a new Virtual Machine (VM).
Not all businesses have such an infrastructure, as usually it is highly cost intensive and requires a certain amount of know-how to set up and maintain.
The beroNet Telephony Appliance integrates beroNet's very easy to use Hypervisor. Requiring only little Know-How, it allows not only to install the IP PBX as a Virtual Machine, but also to operate other VMs, such as Fax-Servers, Software Routers and Firewalls and other Applications on the same physical hardware in parallel. Even when such Apps run under different operating systems.
The hardware is designed to use a minimum of power and provide a maximum of performance to its VMs. It has no moving parts and comes in a stable aluminium housing.
beroNet continues to provide new appliance generations every few years. Thanks to the beroNet hypervisor VMs can be easily ported to the next generation. This way a long availability of spare parts is ensured.
The beroNet hypervisor can also be connected to the beroNet cloud, so that it can monitor the hardware, send out alarms and allow remote management.
The beroNet hypervisor is shipped with a backup mechanism and with a cold-spare cluster concept, which ensures that even in case of an unlikely hardware failure, the cold-spare can take over the duties of the productive machine.
For further information visit the beroNet Telephony Appliance product page.