What is a "High Precision Clock" and what do I need this for?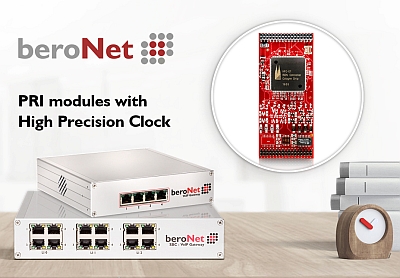 The term "high precision clock" refers to the precision of the oscillator installed on the E1 or PRI modules. These oscillators have a given accuracy which is defined in ppm (parts per million). The lower this value the better. beroNet PRI modules and beroNet E1 modules have a precision of 2.5 ppm (beroNet E1 modules before mai 2021 have a precision of 50ppm).
These oscillators are used when the ISDN Gateway or Session Border Controller are used to connect a traditional PBX to a VoIP System. In this case the ISDN Gateway or SBC will be the clock-master and the ISDN PBX will derive its internal clock from the beroNet device. This is normally fine, unless the PBX uses DECT handsets. These are not connected to the PBX to derive their timing from it, so they must have an internal oscillator with high precision to match the precision of the PBX. But when the PBX has only a low precision, due to deriving it from the Gateway or SBC, the quality of DECT calls will decrease. Even sometimes not work at all.
In such environments, beroNet modules with their high precision give guarantee of calls with the highest quality.
beroNet E1 modules with high precision clock are available under references "BNMO-1E1" and "BNMO-2E1" and integrated in some standard configurations. beroNet PRI modules with high precision clock and additional T1 interface are available under references "BNMO-1PRI" and "BNMO-2PRI". All modules can be at will integrated in Gateways and SBC base models.

For further information please check out beroNet product catalog.