All in one
User-friendly; accessible worldwide; the ability to centrally manage multiple locations; adapted to your needs; always up-to-date, secure and at-a-glance visibility - the beroNet Cloud packs so many features into one solution!

It's often the case that technical solutions for complex requirements are often very complex too. As consumers, we want simple solutions. The professional management of VoIP for multiple locations, across a multitude of devices is one such complex requirement. The main aim here is to be connected to customers and employees at all times; and to be able to carry out controlled checks and diagnostics remotely.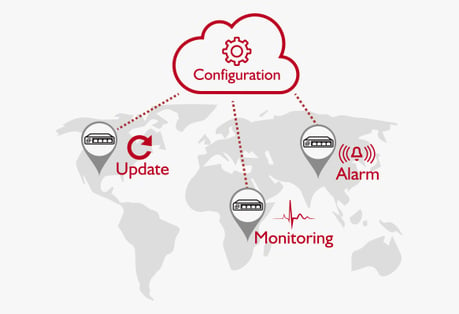 The Cloud solution which offers security
Since the 2000s "Clouds" have been available from various providers. iCloud, Dropbox and Onedrive are just a handful of the many Cloud solutions available. The definition of a Cloud and its' purpose is explained by way of the unique Software-as-a-Service (SaaS)Cloud solution offered by beroNet. Yet what does the term Cloud have to do with computers and the use of beroNet devices?

When we talk of uploading to the Cloud, one usually means hosting data on a remote server. The data is initially uploaded from a device connected to the internet and which is, in turn, connected to a Cloud provider's server. The files can then be retrieved later using this (or other) devices. beroNet takes this one step further by providing an SaaS cloud-based solution, meaning applications and systems can be controlled and serviced remotely. In this way beroNet successfully packages the key functionalities of sophisticated VoIP management into a simple solution. What's more, the solution is always up-to-date and is Cloud based, enabling worldwide access. The beroNet Cloud therefore bundles all control processes together which make VoIP management professional and secure.

Would you like to have full control over your VoIP gateways on your mobile device and via your standard browser? Would you like to have a view of your VoIP gateways from anywhere in the world? Would you like all of your devices to operate with the same security standards and updates? And all of the aforementioned without the need to read an extensive user manual?
Here are the advantages of the beroNet Cloud-based solution:
The world's first SaaS cloud-based VoIP solution that meets all of these requirements

The Cloud is easy to use from any web browser

Intuitive user guidance by way of a graphical user interface

Remote management of and access to all devices at all times

Simultaneous configuration and updates to all gateways in the field

The ability to control multiple gateways from a central location

Full data security in the Cloud using an inner firewall

At a glance' management using dashboard statistics across devices

Built-in alerts, in the event of malfunctions across connected devices
The Cloud solution which saves time and money
Neither long distances nor major barriers to communication are pre-requisites for this solution. In other words: if a problem arises, the customer is assisted quickly, thus saving time, money and technical support costs.

Users with pre-existing Cloud facilities have 60 days to decide if they wish to monitor their devices and how many devices they wish to monitor. Annual fees for the use of the beroNet Cloud solution are charged in February, with costs dependent on the number of devices which need to be controlled and monitored.
You can find everything else > here <