In early February 2020, Deutsche Telekom issued a public statement within their blog. RTL and BILD had previously reported that the group, headquartered in Bonn, was already reducing ISDN line capacity. According to Deutsche Telekom, the facts were not presented in full, resulting in a degree of confusion. Deutsche Telekom reports that a significant number of private and corporate ISDN customers have already made the switch to a 99% all IP solution. The company however has not shared any figures to substantiate this claim.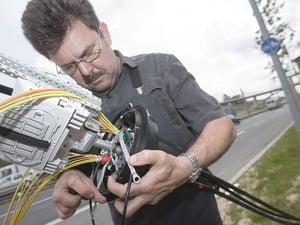 The final conversion measures for private customers are currently in progress, whilst completion of the IP conversion process for corporate customers is planned for 2020. In Autumn 2019 the deadline extension for private and corporate customers for the changeover of telephone connections was delayed. Moreover, connections that have not already been converted to an all IP solution will be switched off at the end of 2020.
Deutsche Telekom promotes the switch to IP technology using the argument that it can offer more bandwidth than what is possible via the old ISDN technology. In order to offer high performance transmission rates of more than 50 M-bits, an IP connection is needed. However, the telephone company limits this by pointing out that their high-speed coverage is not available everywhere.
Deutsche Telekom therefore needs to offer alternative solutions, particularly in the outskirts of cities and more rural areas with long cable routes like Rems Murr, near Stuttgart. In areas such as these, high bandwidth should be guaranteed by cellular LTE or via a satellite connection.
IP capability is a pre-requisite for routers and end devices
Deutsche Telekom maintains that all customers were informed about the switch from ISDN to all IP in the early stages of the process. Whether a customer changes their provider or continues to use their IP based telecom contract is entirely the customer's own choice. For a seamless IP connection, routers and end devices, such as telephones, need to support the Internet Protocol (IP).
To support this, beroNet offers a range of tried and tested hardware solutions (gateways); bespoke systems and cloud-based solutions. "There's still a lot to be done", says the Managing Director of beroNet. "Companies, emergency services and public institutions in particular must act quickly and sensibly".