Currently, one stumbles quite often across the term uCPE. If you feel like you're a uCPE newbie, you've come to the right place to get answers to basic questions about the topic. So let's get started: A Universal Customer Premises Equipment is a universal "white box" network device, usually distributed by a telecom or network service provider, that is located at the customers premises (e.g. a branch office or home). Hence, the name Customer Premises Equipment (CPE). An uCPE was developed to replace older hardware Customer Premises Equipment. The reason for that is because traditionally, telecom and network services were provided to customers with dedicated hardware devices that performed specific network functions (e.g. routers, firewalls, VoIP-PBX, fax server). For each function, a separate device had to be procured, configured, installed, tested and maintained. That costs a lot of time, resources, and money.
Why do I need a uCPE, and how does it work?
A Universal CPE provides all these network functions on a single standard hardware device. Once the uCPE is installed at the customers site, additional network services and functions can be made available with minimal effort, and without installing new devices or removing old ones.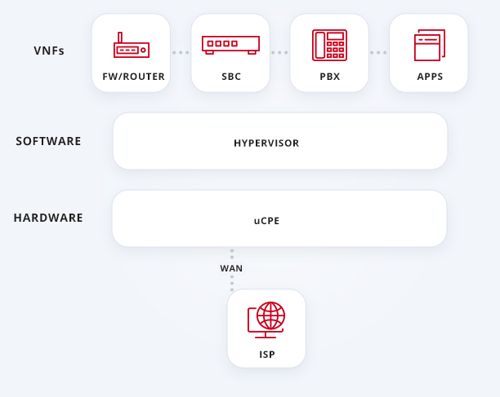 That's because the functions can all be provided and updated software-based and virtually now.
In order, to provide these virtual network functions (VNFs), the hypervisor creates and manages virtual machines (VM). The virtual network functions are then assigned to the virtual machines.
This virtualization process can replace traditional hardware-based customer premises equipment (CPE). A Universal CPE running VNFs as software can be used to provide network connectivity, management, and security functions (for example router or firewall), create SD-WANs (Software-Defined Wide Area Networks) or support any other type of network function that can be virtualized.
What are the benefits of Universal CPE?
An uCPE provides network services (for example firewall) via virtualization at each location in a network. It is a cloud network service directly at the customer site. The use of uCPE devices offers the following advantages:
independent of software and application
adaptive bandwidth services
lower investment and operating costs
more applications on fewer devices and improved adaptability through simple modification of the network
centralized appliance management and wireless data protection
cross-vendor on-demand services and implementation of real-time and dynamic services
automated and scheduled patch management
---
ℹ️ White Box
The term white box refers to a general and brand-independent device that is kept flexible to be used or adapted for various purposes. This can be servers, switches or other types of devices. This allows a certain degree of system customization.
---
ℹ️ Hypervisor
A hypervisor (Virtual Machine Monitor) serves as a software (layer) that creates and runs Virtual Machines (VM) on a single hardware device. Due to the hypervisor, it is possible to use multiple operating systems running on the same hardware simultaneously.
---