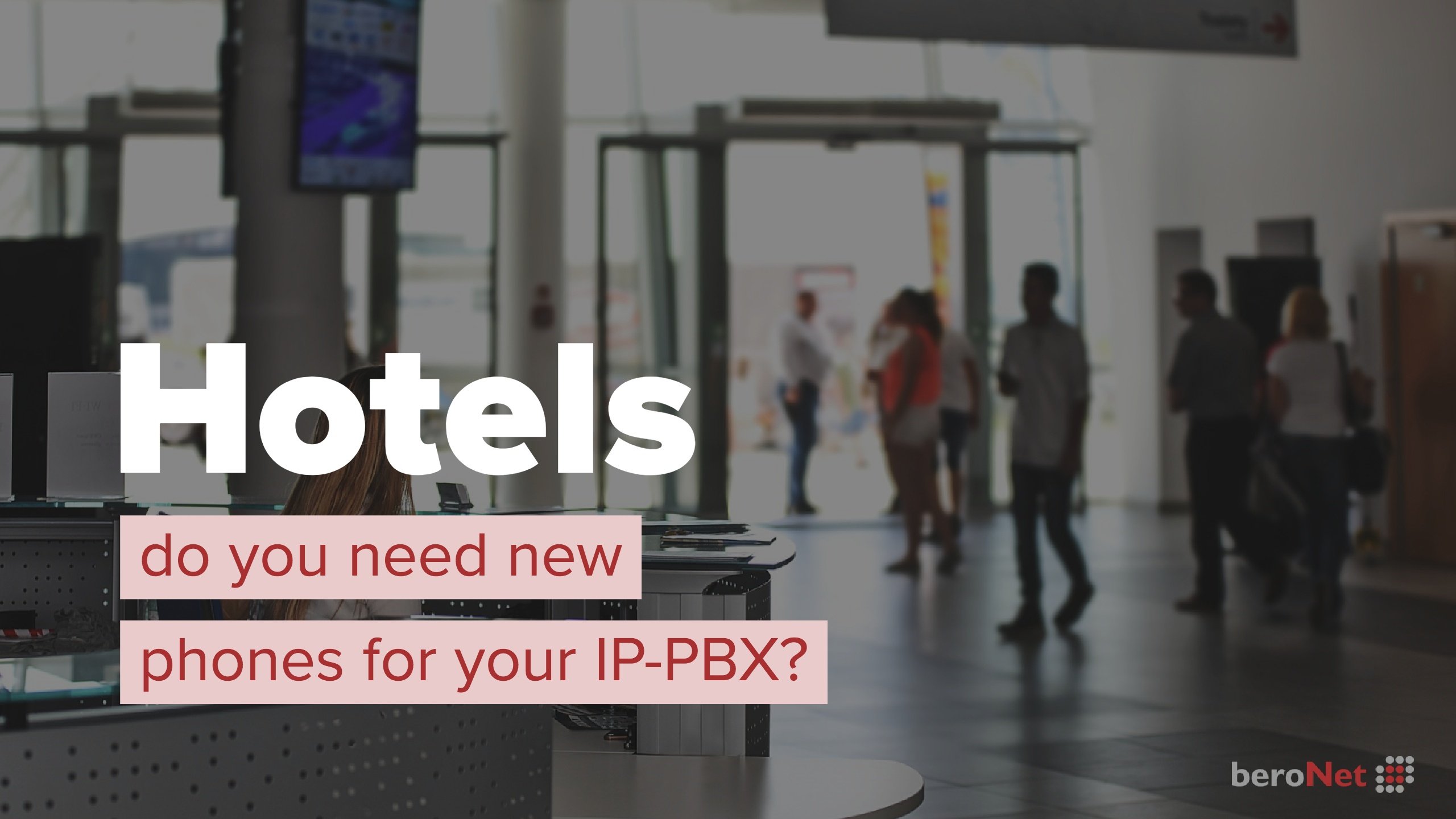 I'm a technology nut. I read tech blogs, help with tech betas and browse electronic stores in my free time. It's rare for me to tell someone "don't buy that tech." But I can't remember the last time I used a hotel phone to call anyone outside of the hotel. So when a hotel is looking at a fancy new IP-PBX or VoIP PBX, do they need to buy new phones for it? Here are some things to consider.

First Consider the Building
How recently was the hotel built? Many IP or VoIP phones need ethernet access to the local network. Unless each guest room has an ethernet connection, new IP phones mean expensive changes to the building. Yes - there are IP phones that can connect to the network using WiFi. Unfortunately, these tend to have reliability issues when many networks overlap.
If the building has ethernet access in each room, is it also used for internet access? It may be wise to dedicate the cabled network to VoIP communication. This helps to ensure quality of service while increasing security. Hotel guests can get by with WiFi.
When the proper cabling is present, then VoIP Phones may be a good option. Many manufacturers provide specialized hotel phones that are durable and easy to clean. These come with features that can improve guest communication and room management.
Next, evaluate the risk
Wired ethernet access in each hotel room could pose a security risk. Hackers can use ethernet ports to disrupt services or listen to guest conversations.
A denial of service (DoS) attack will temporarily or indefinitely disrupt the network's ability to function. This form of attack makes network connectivity unreliable, and may cause a network to be unresponsive. The danger of this attack time climbs when a guest is unable to complete a call to emergency services.
Eavesdropping attacks harvest information from the network. Hackers do this to "listen in" or gather personal information about other people or systems using the network.
Though it is also possible to eavesdrop on a PSTN call, it requires a relatively high level of "know-how" combined with specialized hardware. Eavesdropping on poorly secured VoIP networks needs only a computer, a bit of software, and access to the network.
Using an isolated VoIP network may help against general access, but attackers can still use the LAN cable from the IP phone and a technique called IP-spoofing to gain access to an isolated network.
A few things can make eavesdropping more difficult. First, keep internal VoIP communication encrypted. This makes it difficult for an attacker to understand the information they harvest. Second - keep your phones, switches, routers (and any other network hardware) up-to-date. Companies find security flaws daily and release updates to combat these.
Do you need IP Phones?
Not really. If the ethernet cabling is in place, and you can manage the security risks involved in a hotel-wide VoIP telephone network, then IP phones are an excellent choice. They can modernize your hotel rooms, and some phones make it easier for guests to communicate with you.
If the infrastructure isn't in place, analog VoIP gateways provide a way for hotels to connect analog phones with an IP-PBX. Doing this, while isolating the VoIP network, will also limit the number of access points hackers can use to interfere.
Interested in an analog VoIP Gateway solution?