The company's success story began in 2002, with the launch of simplified technology solutions for customers. beroNet's solutions include SBC's, ISDN, analogue, hybrid and GSM VoIP access, as well as telephony appliances. For beroNet and the industry, the launch of simplified technology solutions was a turning point. The solutions developed by beroNet are not only revolutionary but simple, customer and installation friendly. Their cloud-based system management is also particularly innovative, offering the end customer a range of usability preferences and options. To this end beroNet was awarded a prize for innovation of Telephony Appliance in 2016.
Targeting new B2B markets
At present just 2% of beroNet's business is generated in Singapore. Now, as an established company within the industry, beroNet understandably doesn't want to stand still. The company's Managing Director and Co-Founder Christian Richter reports that beroNet will look to significantly expand into growth markets.
beroNet has appointed Vishal Jain to drive revenue growth in Asia and Middle East. Vishal Jain with over 15 years of Channel experience is responsible for executing two-tier Distribution strategy. Focus is to increase the reach of beroNet product line and beroNet Cloud services by prospecting, onboarding, developing and managing direct and indirect partners.
According to the company's newly appointed Regional Director Vishal Jain, beroNet forecasts an increase of 30% in sales in the coming years.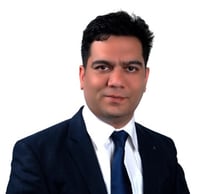 Business in these markets has proven successful
"Quality speaks for itself" says Vishal Jain. "beroNet's skill lies in the bespoke adaptation and customization of technical solutions for customers. Simultaneously VoIP solutions mean economies of scale and premium level technical support is provided as standard. Our performance has been excellent and with the expansion of our business to Asia and the Middle East, we encourage partner organizations and users to connect with us" continues Jain. vishal.jain@beronet.com
In 2020, beroNet's objective is to show its products at local trade fairs. The GITEX exhibition in the UAE and the CommunicAsia in Singapore are among the leading trade-fairs in the region.